Susumu Tachi, PhD
Professor Emeritus of The University of Tokyo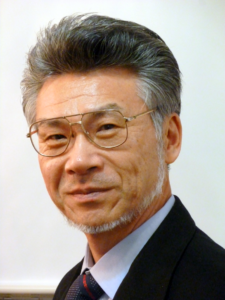 Founding President of the Virtual Reality Society of Japan, and the Founding Chairman of Telexistence Inc.
Susumu Tachi is Professor Emeritus of The University of Tokyo, where he continues his research on virtual reality, haptics and telexistence as well as activities for their dissemination and social implementation. He is the Founding President of the Virtual Reality Society of Japan, and the Founding Chairman of Telexistence Inc.
One of his earliest scientific achievements, shortly after his obtaining a Ph.D. from The University of Tokyo in 1973, was the invention of Guide Dog Robot (1976), an intelligent mobile robot system for the blind. This system was the first of its kind and came to be known as MELDOG.
In 1980, Dr. Tachi invented the concept of Telexistence, which enables a highly realistic sensation of existence in a remote place without any actual travel. Since then, he has been working on the realization of telexistence, and has completed TELESAR V (2012) and TELESAR VI (2019), avatar robot systems that enable the user to bind with an anthropomorphic robot and have a real-time sensation of being where the robot exists, and to feel the robot's body as his or her alter ego through visual, auditory and haptic sensation.
Other achievements include Haptic Primary Colors (2007), Optical Camouflage (2003), and autostereoscopic VR displays such as TWISTER (2002), Repro3D (2010) and HaptoMIRAGE (2014).
From 1988 to 2018, he served as Chairman of the IMEKO Technical Committee on Measurement in Robotics and directed the organization of ISMCR symposia and received IMEKO Distinguished Service Award in 1997. He initiated and founded International Conference on Artificial Reality and Telexistence (ICAT) in 1991 and International-collegiate Virtual Reality Contest (IVRC) in 1993. He received the 2007 IEEE VR Career Award, and served as General Chair of IEEE Virtual Reality Conferences.
https://tachilab.org
https://tachilab.org/en/members/susumu_tachi.html
Cap. Antonio Vinicius Diniz Merladet
Coordinator of Aerospace Systems Processes at Industrial Fostering and Coordination Institute (IFI). Brazilian Air Force.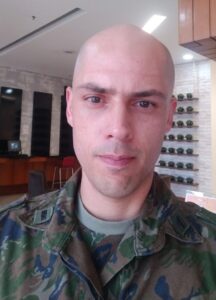 Cap. Antonio Vinicius Diniz Merladet
Brazilian Air Force
Safety analysis of Brazilian suborbital launch operations based on system-theoretic approach
Cap. Antonio Vinicius Diniz Merladet has a Degree in Aerospace Engineering and a Master in Space Science and Technology at Aeronautics Institute of Technology (ITA). Concentration Area: Space Systems, Tests and Launch Operations (CTE-E).
He worked in Launch Operations of the Brazilian Air Force:
- Supporting the elaboration of the Launch Vehicle and Payload Acceptance Review and the Launch Center Readiness Review.
- Responsible for the verification of operational requirements compliance.
- Designated as Safety Assessor of Launch Operations.
- Member of the investigation commissions of suborbital launch vehicles incident and accidents.
For the F-5M and A-1M – Aircraft Modernization.
- Was the officer responsible for the verification of compliance with functional and operational requirements related with safety and performance aspects of the project.
Participant in the Development of Space Regulations of the Brazilian Space Agency and also a member of Brazilian Delegation – WG3 (Space Operations) and WG7 (Space Debris) of the ISO/TC 20/SC 14.
Industrial Manager for satellites project Lessonia-1 and Carponis-1.
Worked at the project Alcantara Space Center (CEA) – Commercial Operation of Brazilian Launch Centers.
- Participating in the elaboration of CEA implantation plans.
- Member of the commission for analysis of commercial operational proposals for launch.
- Benefits Manager.
- Member of Working Group for the establishment of Brazilian Air Force flight safety operational doctrines and procedures for CEA. To be applied in CLA for commercial and also for governmental launches.
Trung T. Pham, Ph.D.
Federal Aviation Administration, USA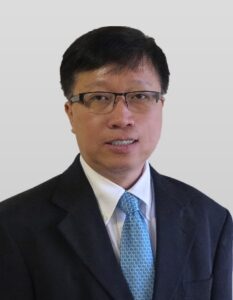 Tutorial
Dr. Trung T. Pham is the FAA's Chief Scientific and Technical Advisor (CSTA) for Artificial Intelligence (AI) – Machine Learning, supporting leadership in research and knowledge related to how AI & Machine Learning may be used in aviation systems, and how to evaluate integration of components based on AI & Machine Learning with aircraft software. Dr. Pham joins the FAA with more than 35 years of software and AI experience. Before joining the FAA, Dr. Pham was at the United States Air Force Academy (USAFA) in Colorado where he worked as an academic professor, teaching in the Department of Computer & Cyber Sciences, and conducting research & development in AI & Machine Learning applications in for the US Air Force Cyberworx (Center of Innovation in Cyber Security) where he was granted the US Top Secret Security Clearance. Previously he taught Control Theory, AI, and Neural Networks at the University of Houston, and was a technical specialist and staff engineer at NASA Johnson Space Center working in the area of Automation & Robotics in the Space Station Program.
He also spent a stint at the University of Talca in Chile, South America as a visiting professor and director of the Center of Research in Information Technology, teaching computer sciences, and directing two nationally sponsored R&D projects on product authentication with embedded double-encryption in RFID and data mining on the IoT authentication activities. While in Chile, he received the US State Department's Fulbright Funding for a project on using swarm intelligence for coordinating a fleet of inexpensive drones to detect forest fire. Earlier in his career, Dr. Pham was a Process Engineer at both Seiscom Delta United, and AMF GeoSpace, doing seismic signal processing for the oil exploration in the energy sector. Throughout his career, Dr. Pham has produced more than 50 publications, two technical books, and many technical presentations. In 2018, he was the recipient of the Best Paper Award at the ENEFA Conference in Valparaíso, Chile.
Dr. Pham is a Senior Member of the Institute of Electrical and Electronic Engineering (IEEE) and a Senior Member of the International Society of Automation (ISA). He is also an active member of the Technical Committee on Measurement in Robotics, and a Distinguished Speaker in the International Measurement Confederation (IMEKO). Dr. Pham obtained his B.S.E.E. (Rice Endowment Scholarship, Texas Valedictorian Scholarship, and the Welsh Foundation Scholarship), M.S. (Office of Naval Research Fellowship), and Ph.D. (The National Aeronautic & Space Administration Fellowship) from the Department of Electrical & Computer Engineering at Rice University in Houston, Texas, and his M.B.A. (McDonnell Douglas Scholarship) from the University of Houston – Clear Lake in Houston, Texas